Wood Platform With Mixing Bowl And Colander complete Set For Workstation Sinks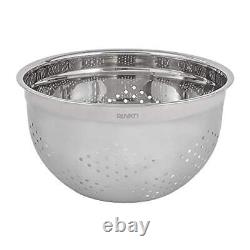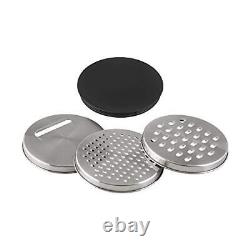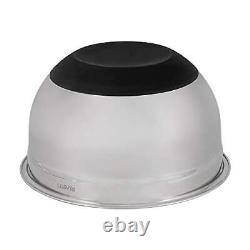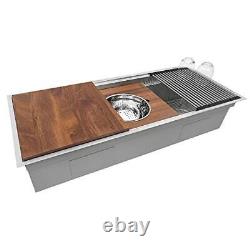 Ruvati Wood Platform with Mixing Bowl and Colander (complete set) for Workstation Sinks - RVA1288. ACCESSORIES SET for Ruvati Worksation Sinks: Includes solid wood PLATFORM, 5 quart MIXING BOWL, perforated COLANDER, black plastic LID, SLICER attachment, and 2 different size GRATER attachments. Solid Mahogany HARDWOOD platform sits on the ledge of your workstation sink.
5-quart size MIXING BOWL with silicone NON-SLIP BOTTOM is perfect for tossing salad or mixing batter. It is perfect for draining pasta or washing vegetables, right on top of your sink. You can slice some carrots or grate some Parmesan on your tossed salad. Ruvati's mixing bowl and platform set takes your workstation sink functionality to a new level.
Now you can mix your batter, toss your salad or strain your pasta, all on top of your sink. No more messy countertop; all the mess stays on the sink, and can be easily rinsed off with your faucet sprayer. The platform is designed to fit all Ruvati workstation kitchen sinks including single tier (Roma, Verona and Siena series) as well as dual tier sinks. The solid hardwood platform sits on the ledge of your workstation sink.
Unlike bamboo, solid hardwood is a lot more durable in wet conditions, and does not warp or crack. The set includes a mixing bowl and a perforated colander, both of which fit in the platform and can be nested when not in use. 5-quart size mixing bowl is perfect for tossing salad, mixing batter or whipping cream. It has a silicone non-slip bottom for ease of use and storage. Perforated colander also fits in the platform. Includes a BPA-free plastic lid that fits tightly on both the mixing bowl or the colander. Allows you to easily store your leftover mix in the fridge. Includes 3 stainless steel slicer / grater attachments. All stainless steel parts are made of food-safe, corrosion-proof T-304 grade stainless steel, one of the highest grade steel available for residential use. Thick solid stainless steel will not dent or warp. Bowl, Colander and lid attachments are all dishwasher safe.
Wood platform should only be handwashed. Wood platform dimensions: 17-1/4" x 15-3/4" x 1 (thick). Fits the following Ruvati models: RVH8003, RVH8023, RVH8030, RVH8035, RVH8300, RVH8301, RVH8307, RVH8308, RVH8309, RVH8310, RVH8345, RVH8350, RVH8351, RVH8356, RVH9020, RVH9050, RVH9100, RVH9200, RVH9201, RVH9300, RVH9301, RVH8222, RVH8333, RVH8555. If you receive an item and it doesn't work properly or you don't like it because of any reason at all. Please wait for the result of cancellation.
The order will be processed and completed by automatic warehouse system within 5 minutes. Sending direct message to cancel the order is not allowed for every case.