Sori Yanagi Stainless Steel Bowl Set 5pcs Made in Japan kitchen tools NEW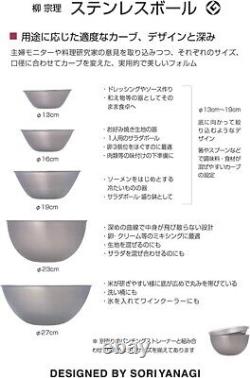 For sale is a set of Sori Yanagi stainless steel bowls. The set includes five bowls in full sizes of 13, 16, 19, 23, and 27cm, each designed and crafted in Japan to embody a blend of modern design and traditional craftsmanship. Each bowl is made of high-quality stainless steel and features the sleek and timeless design that Sori Yanagi is known for. Each bowl makes them versatile for various culinary needs, from mixing ingredients, serving salads, to storing leftovers.
The different sizes allow for easy nesting, saving you space in the kitchen, and their durable construction ensures they can withstand heavy use and retain their shine for years to come. 5-piece stainless steel bowl set by Sori Yanagi.
Full sizes include 13, 16, 19, 23, and 27cm. Durable and robust design, made for heavy use. Can be nested for easy storage. This product is brand new and in excellent condition.
These Sori Yanagi bowls combine functionality, durability, and aesthetics, offering an elegant addition to any kitchen. Invest in this set and enjoy the quality and style that only Sori Yanagi can offer.