Kore Serving Board Set with Mixing Bowl and Colander for Workstation Kitchen Sin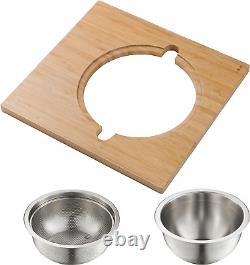 Kore Serving Board Set with Mixing Bowl and Colander for Workstation Kitchen Sink, KAC-1005BB. SERVING BOARD DIMENSIONS: 16 3/4 in.
L x 15 3/4 in. WORKSTATION ACCESSORIES SET includes solid bamboo serving board with stainless steel mixing bowl and colander. STREAMLINE YOUR KITCHEN WORKFLOW: Serving board sits on the integrated workstation ledge so you can easily transition from prepping to serving without losing valuable space on the kitchen counter - EASY CLEAN-UP: Brush debris straight into the drain or garbage disposal to keep your workspace clean.
DURABLE AND FOOD-SAFE: Bowls are made from heavy-duty BPA-free stainless steel, highly resistant to corrosion and rust. Explore the full suite of KRAUS WORKSTATION ACCESSORIES to supercharge the functionality of your workstation kitchen sink.
Product Description Transform your KRAUS Workstation Sink with a custom-fit mixing bowl, colander, and board set designed to slide across the integrated workstation ledge. 100 percent organic bamboo board holds a stainless steel mixing bowl and colander for hands-free use. The large KRAUS mixing bowl is ideal for any kitchen task, including mixing batter and tossing salads, while the oversized colander is perfect for washing produce or straining large batches of pasta.
Made from food-safe and BPA-free stainless steel, these kitchen essentials simplify the kitchen workflow by keeping ingredients at your fingertips, and your countertops clutter-free. Explore the full suite of KRAUS Workstation accessories and take your kitchen to a whole new level! Our goal is to create fixtures that inspire and empower the people that use them. We want our designs to excite people's imaginations, and to change the way they look at the spaces in which they live. Our innovations show our customers that they can always expect more in terms of quality, function, value, and design.
Transform your kitchen and bath with KRAUS, and Live Beautifully. Board + Colander + Mixing Bowl.
Bamboo Serving board (x1) with stainless steel Colander (x1) and Mixing bowl (x1). 16.75"W x 5.63"H.
5.63 "h x 16.75 "h. We can cancel the order for any reason and at any time. Make sure you provide a correct address because it will no longer be possible to change it later. You have 30 days to return at your expense.
If there were delays they could be caused by couriers and not by us. Thank you for choosing us!