Household 600W Stand Mixer w 10L Stainless Steel Mixing Bowl Kitchen Appliance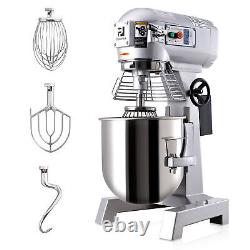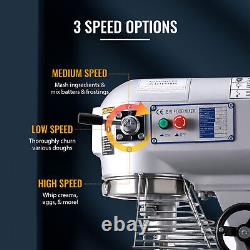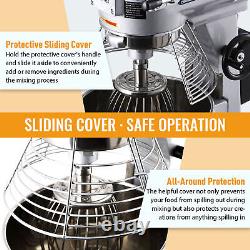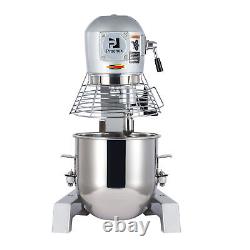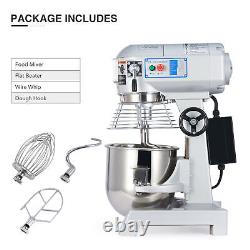 10Qt Commercial Bakery Mixer 600W 3-Speed Stand Mixer Dough Pizza Bread Flour. Material: Stainless Steel, Steel, Plastic. Volume: 10L 10.6 qt. Rotational Speeds: 130, 233, and 415 rpm.
Overall Dimensions: 17.3 x 12.9 x 24.8 in. (43.9 x 32.8 x 63 cm). Bowl Diameter: 10.6 in. 10 QUART MIXER: This commercial food mixer features a 10.6 wide stainless steel bowl to mix up to 10 liters (10.6 quarts) of ingredients for restaurants, bakeries, cafes, larger families, and big get-togethers; you can simply move the adjustment lever to select the speed you need: 130, 233, or 415 rpm.
VERSATILE ATTACHMENTS: Our electric planetary mixer comes with a dough hook for making light work of heavy-duty baking; a flat beater for stirring sauces, soups, and more; and a wire whip for aerating batter and smooth and even blending. EASY TO USE: Insert the attachment you need, fill the bowl with your ingredients, and set the mixing speed to perfectly combine everything in a flash; you can even easily adjust the bowl as required thanks to its convenient height lever.
STAINLESS CONSTRUCTION: The mixing bowl, attachments, and safety guard are all made from high-quality stainless steel so they stay strong, safe, and oh-so-easy to clean through years of use. SAFETY FIRST: Durably built for years of constant use, the large emergency stop button ensures you can quickly fix any problems along the way.
This industrial food and dough mixer can blend flour, eggs, dough and more! The durable 10Qt stainless steel bowl and impressive 600W motor has enough power to mix enough food for commercial restaurants and bakeries. Choose between 3 speeds and 3 stainless steel mixing attachments to properly blend and prepare your gourmet food. Adjust the height and use the safety guard for best practices in the kitchen. Ideal for large scale cooking in cake shops, bakeries, pizzerias, restaurants, cafés, schools and even at home!