Free Standing Stainless-Steel Double Bowl Commercial Restaurant Kitchen Sink Set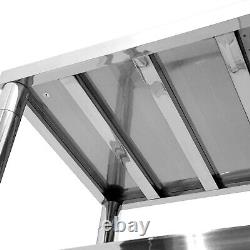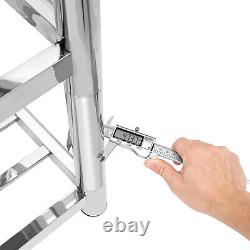 Stainless Steel Commercial Sink Kitchen Utility Sink 2 Compartment + Prep Table. Does the already crowded kitchen often bother you with issues such as insufficient space, clogged sinks, and difficulty in cleaning?
Then I suggest taking a look at our kitchen sink! Its smooth and sturdy material ensures durability while also making it easy to clean. The large countertop, large capacity sink, and two shelves make ideal use of vertical space, which can easily solve the above problems and help you create a cleaner kitchen. Selected Materials: It adopts 304 stainless steel and polished pipes, combined with a wire drawing process, with good anti-corrosion, rust prevention, and scratch resistance characteristics.
The 23 36mm square tube and 47mm diameter circular tube welded by argon arc, as well as the design of the crossbeam under the table, provide good support and achieve a maximum load-bearing capacity of 330 lbs. Large Capacity: Two 12.612.66.3 inches sinks can accommodate many pots, bowls, dishes, etc. Allowing you to easily clean various kitchen utensils, fruits, vegetables, etc. The upper and lower shelves provide you with sufficient storage space to store daily necessities and save space. Easy to Install: It does not require screws or other tools to assist in installation. You only need to directly connect the various components to complete the installation and enjoy the achievements from components to finished products! Cold & Hot Water: The stainless steel faucet can rotate 360° and is equipped with two inlet pipes for cold and hot water, which can be switched left or right to adjust the water temperature. The honeycomb filter and the ceramic valve core can give you a better sense of use and give it a longer service life. Thoughtful Design: Anti-odor sewer, anti-clogging double layer filter, noise reduction pad, R-angle design, and breakwater border all provide convenience for your use and cleaning process, making your cleaning work more comfortable. Easy to Clean: Thanks to its smooth surface and rounded edges, grease and dirt can be quickly removed.
Classical & Minimalist: Smooth lines, shiny stainless steel, and practical design allow it to maintain practicality while also bringing a certain sense of decoration to your space. Cleaning Assistant: With a balanced combination of practicality and aesthetics, it can assist with a series of cleaning activities. Whether for commercial or household use, its thoughtful design and spacious storage space can provide convenience, and save time and energy. Protective Packaging: This product comes in bubble wrap that resist common compression and falls to prevent product damage in transit as much as possible. Embossed Patterns: The embossed patterns on the countertop not only improve aesthetics but also enhance scratch resistance and are beneficial for cleaning.
Foot Pads: The four-foot pads at the bottom not only increase friction with the ground to ensure stability but also prevent scratches on your ground during dragging. Sealing Gaskets: Almost every interface position is equipped with a sealing gasket to achieve good sealing performance and effectively prevent water leakage.
Overflow Holes: The overflow holes on the side are at a reasonable height, combined with the drainage pipe below to prevent sewage from overflowing and timely discharge. Large Drainage Hole: The 3.5in drainage port can efficiently discharge sewage in a short period and is not prone to blockage. It is an ideal choice for places such as garages, laundry rooms, basements, terraces, bars, kitchens, bathrooms, farms, backyards, commercial restaurants, etc. It is very suitable for manually cleaning food, fruits, vegetables, etc.
Surface Treatment: Wire Drawing, Polishing. Sink Size(LWH): 323216cm/12.612.66.3in. Water Inlet Pipe Length: 78.5cm/31in.
Table Size: 4140cm/16.115.7in. Middle Shelf Size: 3642cm/14.116.5in. Bottom Shelf Size: 11742cm/4616.5in. Outlet Mouth Diameter: 9cm/3.5in. Gross Weight: 12.95kg/28.5lbs.
Net Weight: 10.8kg/23.8lbs. Product Size: 12044.580cm/47.217.531.5in. Package Size: 124.549.532cm/4919.512.6in. Please carefully read the manual and strictly follow the precautions to have a better experience.
Scratches may be on the surface of the product, which is normal and does not affect its use. Please install the cold and hot water inlet pipes correctly according to the installation diagram, otherwise, the water outlet from the faucet may not match the display. Please allow the slight color difference caused by the shooting light and 1-3cm error due to manual measurement, and make sure you do not mind before you order. Feedback is very important to us. It is impossible to address issues if we do not know about them! Faction is our ultimate goal. We work hard to earn your trust and future business. A If you receive a defective item, you may return it or ask for a discount. Due to time zones, our reply to your questions may not be immediately. If it's non-workdays, please kindly be patient and wait till Monday.