5th Ave 22-Inch Undermount Kitchen Sink Set, 16Gauge Stainless Steel Single Bowl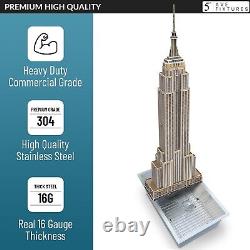 22" x 18.5" x 10. Strives to produce quality products at quality prices. We use the some of the best premium high quality. For our undermount kitchen sinks. Come join us in making your home meet and exceed your expectations with our highly designed and functional products. Our custom sink will not easily rust or corrode over time.
Specializing in providing you quality products. When we say 16 Gauge we deliver 16 Gauge with an even thicker rim to help reduce any damage or denting. Designed to be one of the largest widths to fit into a 30 minimum cabinet or larger, maximizing every inch of your sink base cabinet. The gently rounded R10 corners provide for a tight radius making it extra easy to clean and dry. The two different styles of drain cover lids allow you to accommodate the design style to match your choice of kitchen.
Yes, it is Garbage Disposal Compatible The sink can be used as your main kitchen sink, a bar or prep sink, an outdoor sink or bbq sink or laundry room utility sink. Our sink is designed to withstand the elements.