32 Inch Undermount Workstation Kitchen Sink 16 Gauge Single Bowl Stainless Steel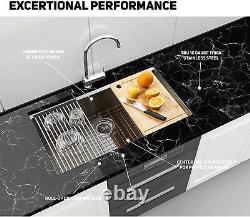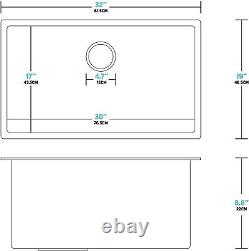 32 Inch Undermount Workstation Kitchen Sink 16 Gauge Single Bowl Stainless Steel. Simple Deluxe single bowl workstation sink is your best helper to increase the workspace and keep counter organized! Free four-pieces functional accessories come with the sink, which allows you to wash and cut ingredients, and dry dishware over the sink. 30'' W x 17'' L x 8. 6'' H inner dimensions are large and deep enough for home using.
7'' diameter large drain hole ensures the best drainage possible. The whole product is made of high-quality TRU16 Gauge stainless steel, and we provide LIFETIME LIMITED and customer service ready to solve your problems. OUTER DIMENSIONS: 32'' (wide) x 19'' (length); INNER DIMENSIONS: 30'' (wide) x 17'' (length) x 8.
6'' (bowl depth); This single bowl sink is big and deep enough for washing your large cooking pots, serval bowls, plates and cups simultaneously, which makes it an ideal workstation sink for home use. PACKAGE INCLUDE: [Dish Grid] protect the basin from scratching; [Roll-up Dish drying rack] can be used as a drying rack, cooling rack, as well as a vegetable colander; [Bamboo Cutting Board] due to its high density, it's not easy to warp or crack and can resist bacteria; [Basket Strainer Drain Assembly] with the removable separate basket, it prevents debris from clogging.
HEAVY DUTY STAINLESS STEEL: This product is made of TRU16 Gauge stainless steel, which is the thickest and the best material choice for kitchen sink in the market. Some benefits of 16 Gauge are noise reduction, strength, durable, dents and corrosion resistance, and easy to clean. FUNCTIONAL: A workstation sink with functional accessories is the best choice for your kitchen.
These multi-function accessories (dish grid, roll-up drying rack, cutting board) allow you to work over the sink, which is especially beneficial for small kitchen since it adds additional workspace to your counter. 7'' diameter large drain hole and the drain channel grooves could direct water and prevent it from pooling in the sink. The basket sink strainer is a great device to help clean debris if the sink is not equipped with a garbage disposal.
For those who are outside US. It all depends on our customers' choices.
Hope we can deal with soon and let us witness this moment. IPower is one of the leading manufacturers of grow light systems, supplying the gardeners worldwide for over a decade. Our goal is to put a light in every garden where needed.
From hobbyist to commercial applications, we offer a broad spectrum of garden tools and equipment in hydroponics, irrigation, climate control, and structures to help your garden thrive. Feedback is very important to us. It is impossible to address issues if we do not know about them!