1/2 Compartment Commercial Stainless Steel Sink Bowl + Catering Prep Table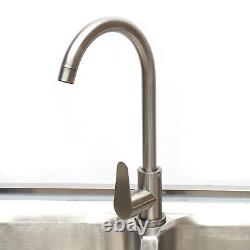 Specifications: Color: silver Material: 304# stainless steel Surface treatment: wire drawing technology Number of bowls: 2 Bowl shape: rectangular Maximum load: 150kg Bowl size: 33x33x20cm Platform size: 35x45cm Overall size: 120x85x45cm Inlet pipe: 80cm (31.5in) Packing size: 1255035cm Weight: 17kg The package includes: 1X kitchen sink 1X hot and cold faucet 2X angle valve 2X water inlet pipe 1X bracket 2X all steel drain 1X connecting pipe 1X drain pipe A pair of cloth gloves 1X raw material tape. 1/2 Compartment Commercial Stainless Steel Sink Bowl + Catering Prep Table. Note: We have two types of commercial sinks, type one is 2 Compartment.
And type two is 1 Compartment. NOW ENJOY YOUR CLEAN KITCHEN. Left Worktop + Right Sink. Surface treatment: wire drawing technology. Bowl size: 33x33x20cm Platform size: 40x40cm Overall size: 120x81x45cm Inlet pipe: 80cm (31.5in) Packing size: 1255035cm. This free-standing commercial sink is very suitable for any dining environment. With double bowls, spacious drains and double storage shelves, it can ensure the efficiency of the kitchen. Made of sturdy 304 stainless steel, super easy to clean and keep hygienic, with a polished surface, with better anti-corrosion effect and long-lasting effect, and it will definitely look shiny like a kitchen! The spacious drainer provides you with enough space to dry everything from cutlery, plates to pots and pans. It adopts streamlined rounded corners and edge design, no dead corners, convenient for daily washing, double bowls can be placed independently and easy to clean. Can be cleaned with neutral soap to ensure anti-rust gloss life. Double shelves can store cleaning equipment and accessories, two stainless steel drainage devices with two detachable filters can prevent food and debris from clogging the drainage pipe, and the reinforced table can be used for cutting pork chops and steaks, etc. Gooseneck 360 degree rotation Faucet, can produce hot and cold water.
It is very suitable for washing and cleaning food, fruits and vegetables, any kitchen, bar, restaurant, dessert shop, clean room, cafeteria, garage or any other commercial place by hand. 1× Hot and Cold Faucet.
A Pair of Cloth Gloves. The four legs and the four corners of the table are fitted with plastic pads to protect your floors and walls from scratches and general wear. Excellent stainless steel single faucet, to provide you with the most suitable water flow.
The two shelves can be used to hold food, towels, and other items. Process manufacturing, physical anti- rust technology, no leakage and easy maintenance. 2 large sinks for soaking, washing and draining. Equipped with hot and cold water pipes to meet your needs for different temperature water. Stainless steel sink filter and sewer pipe block food residues for you and easily lead water into the sewer.
Inside the sink, the special rounded design in the corners make it easier to clean and will speed up the basin cleaning process. Bowl size: 33x33x20cm Platform size: 40x40cm Overall size: 120x81x45cm. This is a commercial kitchen sink that cuts preparation time in half!
It can withstand a long service life and has excellent quality to protect the surface from scratches and stains. It is designed to solve any restaurant, bar or any clean space with curved corners to ensure Every corner can maintain the hygiene of your area. A set of commercial kitchen sinks. This corrosion-resistant workbench can be easily cleaned to maintain its stainless steel luster. The adjustable feet are sturdy and durable, and can keep things fixed.
Our sink is made of 1mm stainless steel, which can withstand the large-capacity and fast-paced commercial kitchen environment to ensure that no orders are left. The large drain bowl provides you with enough space to easily clean large pots and pans.
This is a commercial sink that can lead water into the sewer. Commercial sinks provide enough space for food preparation, drying or stacking of dishes, and its inclined surface can drain excess water. We provide a set of sink filters made of stainless steel.
And it comes with a tap. Compared with most other products made of plastic, stainless steel bullet feet have higher stability. The bullet feet allow you to level the sink and protect the floor from scratches.
Thickness of 4 brackets: 0.04ft. Work surface (length width): 6345cm. Sink size (length width depth): 483520cm.
Feedback is very important to us. It is impossible to address issues if we do not know about them! Faction is our ultimate goal. We work hard to earn your trust and future business.
A If you receive a defective item, you may return it or ask for a discount. Due to time zones, our reply to your questions may not be immediately. If it's non-workdays, please kindly be patient and wait till Monday.
1 Compartment or 2 Compartment.